Seal-Tight
Waterproof Cast Protector and Shower Bag
Seal-Tight Waterproof Cast & Bandage Covers
The Seal-Tight is Completely Watertight Keeping your Bandages, Prosthesis, and Casts Dry.

Stay Dry While Getting Wet!™
Recommended by doctors for showering and bathing, SEAL-TIGHT® Cast and Bandage Protector is the easiest to use watertight protection available. Easy to apply with the patented application ring, eliminates need for strapping, pumps or velcro closure. No latex diaphragm stretches easily over cast or bandage to form watertight seal. Durable polyvinyl bag prevents water penetration. Reusable. With normal care, lasts 6 - 8 weeks of daily usage. Use for therapeutic care and daily showering or bathing to protect casts and bandages. Not recommended for swimming (for swimming, try the Dry Pro cast protector).

Leg Cast Covers
(The arm models have a different shape than the leg models)
Adult Models - click this link
Pediatric Models - click this link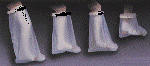 Only $24.85

Arm Cast Covers
(The arm models have a different shape than the leg models)
Adult Hand and Arm Models - click this link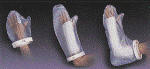 Only $24.85

Low Cost Shipping: Products on this page are shipped "flat rate" S&H in USA. "Flat rate" means one price, no matter how much you order.
30 Day Money Back Guarantee
(on unused merchandise)