PowerStep ® Arch Supports / Orthotics

Manufacturer's Product Information:
PowerStep ® Orthotics
The Podiatrist's Prescription for Pain Relief!™
Powerstep ® is a unique podiatric support system that helps relieve heel and arch pain, as well as knee and lower back pain. Common insoles don't provide needed support. Ordinary supports can collapse too easily and don't stabilize the heel. Powerstep ® features a unique 4-component design to relieve foot pain: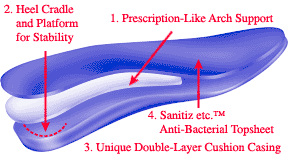 Models
Full-Length support and comfort from heel to toe

* Powerstep ® Full-Length features a prescription-like arch support encased in a unique double-layer cushioned insole, plus a contoured stabilizing heel cup.
* It provides effective relief for heel and arch pain, generating rave reviews
* Full-Length is available in 10 sizes to ensure optimal fit.
Versatile Slimtech ¾-length support for a "sure fit" in a broad range of shoes

* SlimTech ® ¾ provides the versatility of ¾-length support with a slimmer, thinner approach that fits most casual, slip-on and dress shoes.
* In independent research with over 150 product trials, SlimTech ® ¾ was proven to have advantages versus its leading competitor in:
* Overall Product Preference
* Pain Relief, Fit & Comfort Ratings
* Satisfaction with Flexibility, Length and Width
Extra Support For Those Who Need It

* Arch Boosters ® boost the support level of Powerstep ® Full-Length or SlimTech ® ¾
* Arch Boosters ® provide extra support for people needing high support or rigidity, including those patients who are overweight or have severely flat feet.
Powerstep Metatarsal Relief Pads

* Helps relieve pain near the front of the foot.
* Transfers weight away from the metatarsal bones to relieve pinched nerves.

Low Cost Shipping: Products on this page are shipped "flat rate" S&H in USA. "Flat rate" means one price, no matter how much you order.
30 Day Money Back Guarantee
(on unused merchandise)

SALE: Powerstep Insoles are on sale for a limited time for only $24.95 and $29.95.



Independent Reviews
Runner's World, April 1999
"The arch's springy flexibility and the cushioning in the forefoot and heel provide a stable, comfortable ride."
Men's Health, October 1999
"We recommend Powerstep®. It will provide extra cushioning and superior arch support."
Celebrities who have worn Powerstep
Worn by Ken Griffey, Jr., Cincinnati Reds
Worn by Rudolph Giuliani, former Mayor, New York City
Worn by Bruce Springsteen, Rock Idol


Which Orthotic / Arch Support Should I Use?
Dr Nelson's comments:
The best fitting and functioning type of arch support is a custom made prescription orthotic, which can be made by your podiatrist. Generally, for most people, I recommend trying a pre-made arch support before progressing to an expensive pair of custom made orthotics. Finding a comfortable and effective pre-made arch support can be difficult. There are hundreds of varieties on the market and that can make it confusing for customers. Due to the variations in people's foot shapes, foot problems and style variations in different products, there is no "one type fits all" arch support available. That's why DrNelsonClinic offers different brands and models like OrthoFeet, SuperFeet, WalkFit and PowerStep to choose among. PowerStep makes a very comfortable, supportive arch support that is highly recommended by many Podiatrists.