Dr Mark Nelson
Foot & Ankle Specialist
Clinic Home Page
Foot Care Store
Foot Medical Information

OrthoFeet ® Arch Supports / Orthotics

"Our best fitting, best functioning and most comfortable pre-made arch support. OrthoFeet are the best alternative to custom-made prescription orthotics."
Manufacturer's Product Information:
OrthoFeet ® BioSole-Gel Self-Molding Orthotic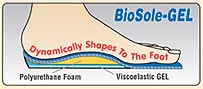 Self-Forming Arch-Support
A bladder construction, filled with polyurethane foam and viscoelastic gel, shapes dynamically to the contours of the foot without bottoming out.
Thermo-Formable Top-Cover
A durable Rubberized EVA foam provides superb cushioning and even pressure distribution of body weight. If necessary, the orthotic can be thermo-formed directly to the foot using a Heat-Gun or a toaster oven.
Heel-Pain Relief
A deep contoured heel-seat, padded with gel, along with a special recess under the heel alleviate the pressure on the calcaneus and protects the heel against impacts.
Interactive Posting
A variety of posts can be easily attached to the bottom of the orthotic to fine tune the alignment of the foot on site.

Models
BioSole Sport:
A 3/16" orthotic, designed for shoes with removable inserts or shoes with extra room.
BioSole Women's Dress:
A very thin orthotic for women's narrow flats and High Heels, specially designed to eliminate the common problem of slipping out of the shoe.
BioSole Thin-Line:
A 1/16" thick orthotic, designed for men's dress shoes and women's casual shoes.
BioSole Soft:
A 3/16" thick orthotic covered with a soft EVA foam, similar in its characteristics to Plastazote, but far superior in its durability. It is ideal for Diabetic, Arthritic and Geriatric patients.
ThermoFit:
Bi-Laminate customized orthotics are designed to provide the diabetic foot with ultimate protection, and, at the same time, facilitate the heat molding process. The orthotics are designed with a deep heel-seat and an anatomical arch support, constructed individually for each shoe size for precise support and ultimate comfort. Bi-Laminate orthotics are made of two layers of thermo-formable EVA foam (heat moldable), which combine easy molding and excellent cushioning features:
· The upper layer is made of soft EVA foam, which molds like Plastazote, but is far more durable.
· The bottom layer is made of 3/16" thermo-formable EVA foam, 40 shore A hardness, for long-lasting support.
Low Cost Shipping: Products on this page are shipped "flat rate" S&H in USA. "Flat rate" means one price, no matter how much you order.
30 Day Money Back Guarantee
(on unused merchandise)



Which Orthotic / Arch Support Should I Use?

Dr Nelson's comments:
The best fitting and functioning type of arch support is a custom made prescription orthotic, which can be made by your podiatrist. Generally, for most people, I recommend trying a pre-made arch support before progressing to an expensive pair of custom made orthotics. Finding a comfortable and effective pre-made arch support can be difficult. There are hundreds of varieties on the market and that can make it confusing for customers. Due to the variations in people's foot shapes, foot problems and style variations in different products, there is no "one type fits all" arch support available. That's why DrNelsonClinic offers different brands and models like OrthoFeet, SuperFeet, WalkFit and PowerStep to choose among. Fortunately, for most people, I've found that the OrthoFeet BioSole gel self-molding orthotics work the best and fit almost everybody. Among the hundreds of pre-made arch supports I've seen and used, the OrthoFeet BioSole models give the best support and pain relief for people with plantar fasciitis and heel pain. It's by far my favorite model for people with heel pain, due in part to the higher arch and shock absorbing gel under the heel. Be aware that the standard OrthoFeet BioSole "sport" model is rather thick through the arch and it fits into athletic, work boots and walking shoes, but may not fit into a shallow shoe, like a dress shoe. If you want to use the OrthoFeet in a shallow shoe, like a dress shoe, then use the "thin-line" or "high heel dress" models. The "sport" model may also be too high in the arch area for people with very flat feet. For elderly or arthritic people and those that want extra cushioning and softness under the foot, while still getting extra support under the arch, try the OrthoFeet BioSole "soft" model. If you don't need extra arch support or heel pain relief and only want shock absorption and cushioning under the foot, try the OrthoFeet "ThermoFit" model. After you start using any brand of arch supports, remember to break them in gradually, because is will take some time for the orthotic and your feet to adjust to each other. I personally use the OrthoFeet BioSole sport model in my athletic shoes and have found them to be as effective and comfortable as my expensive custom prescription orthotics. But, it did take longer to "break-in" the OrthoFeet supports than my custom orthotics. If you don't have plantar fasciitis or heel pain or if you have a flat foot and can't tolerate an arch support with a higher arch, but still want great foot support to relieve foot fatigue and strain, you should also consider SuperFeet Synergizer orthotics, which are our most popular arch supports. SuperFeet Synergizer orthotics have been highly recommended by sports and outdoor publications such as Backpacker™ magazine.